In this age of modernization our entire social, occupational, professional, defense and many other activities, today, are rushing towards the computerization.
The propriety of a computer is mainly because of the error-free and fast operation helping in our daily work routines.  No need to keep hard store and transport data. This way "Your time is précised in your one click".
Why computer science engineering?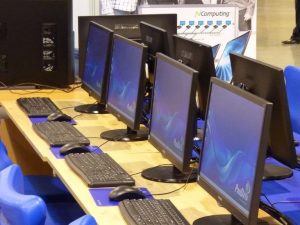 Students who enjoy solving computer problems may want to consider obtaining a Diploma in Computer Science. This course offers students the ability to pair their computer skills with their critical thinking capabilities.
Computer Science is an exciting subject offering excellent employment opportunities and well-paid careers.
At RMIET, the course of computer science program is designed in a manner, so the students can gain fundamental knowledge and principles of Computer Science. The Diploma in Computer Science will also sharpen analytical skills, equip our students with the technical ability while stretching the creative talents needed to succeed in a computing career.
Career opportunities:
From the rapid explosion of e-commerce today the scope of computer science has widened. After successfully completing Computer science engineering diploma, one can apply for the job as:-
Software engineer
Software developer
Programmer
Business analyst
IT specialist
Network designer
Database administrator
Technical consultant
Webmaster
Duration–
The duration of Diploma in Computer Science Engineering is 3 years. It is a short-term course for entering this field of profession. For a further scope in Computer Science engineering, one can do a bachelor's degree after completing Computer engineering diploma.
Eligibility–
A person must have successfully passed 10th standard to pursue a Diploma in Computer Science Engineering.
For further doing a post graduate diploma in computer science engineering, the candidate requires having a graduate degree.
Study programme–
Diploma in computer science engineering is aimed to impart students both theoretical and practical knowledge about the subject in focus.
Our program is conducted in a combination of workshops, lectures, practical sessions and seminars by our dedicated academic staffs.
Computer science engineering diploma focuses more on practical exam & training, providing the opportunities for On-the-job training and internships, which is further very helpful to students after entering the job industry.
Through our practical-based program, our students further develop their interpersonal skills, build confidence, and gain the key skills valued by employers.
To enter engineering/Computer Science engineering field sooner, Diploma in Computer Science engineering is the economic choice for any student.
RMIET provides the best opportunities for a bright future in Polytechnic Diploma course in Computer Science Engineering, at economical fees. For encouraging girl education RMIET is sponsoring free education for Girls and also for SC/ST students.