After completing high school, you might be exploring some options for pursuing higher education. And this world has plenty of career options to choose from, such as a degree in Business, fine arts, Information Technology (IT), Engineering, medicine, or finance, and much more.
But if you are curious about how things work and eagerly want to know how they could work better or more efficiently, then choosing Electrical Engineering Course can be a boon for you.
The Electrical Engineering course includes heavy current, electric light, and power systems. 
The work carried out by Electrical Engineers is vitally important.
Electrical Engineers are responsible for providing solutions for real-life problems. And they are also responsible for designing and developing new electrical systems and tests equipment.
They can work on a diverse range of technologies, from the design of household appliances, telecommunication systems, lighting and wiring of buildings, satellite communications, and electrical power stations.
Let's explore some reasons why to pursue Electrical Engineering as your career: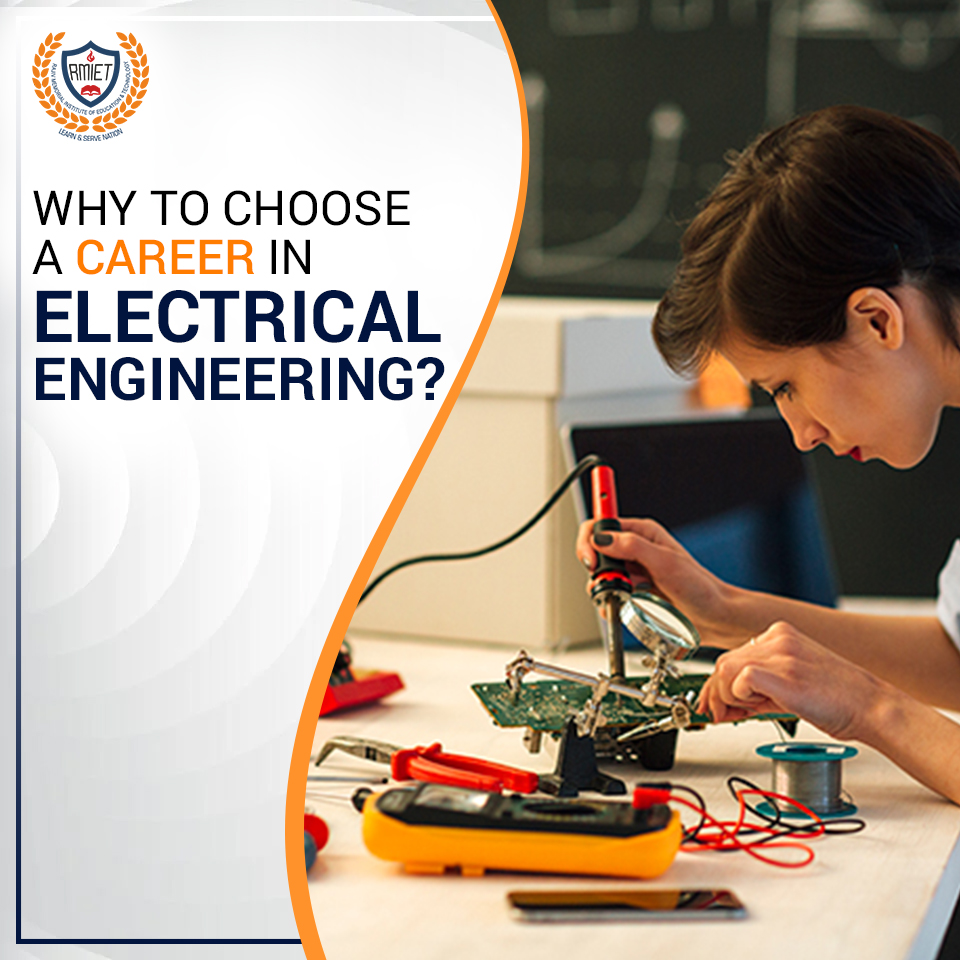 Wide Range of Career Options
Electric Engineering course offers you a wide range of specialization areas such as signal processing, control systems, robotics, communications, and microelectronics.
And this gives students several options to choose their career path. It ensures that you will have a lot of career options available upon graduation.
And looking for job opportunities is not that hard since many companies are always looking forward to hiring fresh talents because it takes a little effort to teach them the technical part of their job role as they are updated about technology.
Innovations and Improvisations
Electrical Engineering offers you so many opportunities for improvisations and innovations. This field includes the constant advancement of technology and innovation. You can also construct your own models and designs by improvising on the existing blueprint and circuitry of equipment.
High Starting Salaries
One of the best benefits of pursuing your career in Electrical Engineering is that this domain offers you a high starting salary. And even in coming times, it predicts the biggest growth in the engineering services field.
Electrical engineers are in demand
With the quickly evolving technological sector, the demand for those who can create, understand and alter electrical control systems is rising.
And, Electrical engineers are in demand all over the world. If spending time studying or working overseas is what you want, then perhaps this subject area is perfect for you.
Following are the Electrical Engineering courses offered at RMIET for Electronics branch under PMKVY:
Field Technician

TV Repair Technician
1. Field Technician
In the Electronics Sector, this program trains candidates for the job of Field Technician.
A field technician has skills and techniques for repair & maintenance of the equipment; he must travel to sites of his work field to troubleshoot the equipment's problem.
2. TV Repair Technician
In the Electronics Sector, this program trains candidates for the job of TV Repair Technician.
TV Repair Technician diagnoses the problems in malfunctioning equipment, determines the faulty part, and then decides if it can be fixed or requires to be replaced. Must be able to communicate clearly with customers regarding the nature of and solution to their electronics equipment problems.