There are series on YouTube and other streaming platforms that will make you feel nostalgic about your school life and entertain you too. Today, we've decided to enumerate 6 web series that every student must watch. Let's see them one by one: –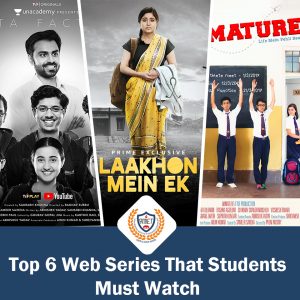 KOTA FACTORY (On YouTube)
Kota Factory is based on real-life incidents that students face at Kota while preparing for IIT-JEE. The story revolves around Vaibhav who came from his hometown to Kota, the struggles he endures in his new life, and how his physics teacher, Jeetu Bhaiya, helps him settle down there. Don't miss that monologue by Jeetu Bhaiya with regards to pressure that these JEE or NEET exams put on the little minds of students. Supporting actor roles are also very relatable. In brief, this show is a comic satire on India's Education System.
FLAMES (On YouTube)
Do you remember your first crushes? Those butterflies in the stomach when you confessed your feelings to him/herfor the first time. If you want to feel nostalgic about the same, just watch FLAMES on YouTube. The chemistry between Rajat and Ishita will take you back to your tuition days when life was stress-free and love was innocent. All four actors in the show have done great justice to their roles. 
COLLEGE ROMANCE (On YouTube)
College romance is the only show that does justice to the presentation of millennial love stories in Indian colleges. The show is emotional as well as funny at times and teaches us the value of True Friendships in our lives. The jodi of Bagga and Naira is the best of all three jodis. 
LAAKHON MEIN EK (On Amazon Prime)
"Laakhon Mein Ek" is developed by "Biswa Kalyan Rath". The show has a similar theme as Kota Factory, though it gets intensified with each episode. There are some moments full of humour but mostly the show presents the naked reality of these big coaching institutes as it is. Furthermore, you will also get to see Biswa Kalyan Rath in the role of a teacher. 
IMMATURE (On MX Player)
Before becoming mature, we all were immature with a heart aching for someone special. Immature is an amazing show on YouTube that captures moments of immature absurdity so well. The first crushes and proposals, school fights, first time bunking, and fighting parents for a private vehicle; this show has it all.   
DEATH NOTE (On YouTube)
If you are a fan of anime, then start watching Death Note on Youtube. Light Yagami, who thinks that the world is a rotten place and found a notebook on which if a person's real name is written, he/she shall die in 30 seconds. With time, Light became obsessed with the idea of becoming God of the new world. The whole show revolves around the Super Detective L trying to catch Light.  
This was the list of web series that every student must watch. At RMIET, we strive to provide quality education to our students as well as work towards polishing their soft skills to help them with their overall development. To know more about our college activities and courses, http://rmiet.org/.