Tough times come in everybody's life whether adults or students. While adults able to cope with failures, students find it hard to cope with them. In those tough times, students need words of advice and encouragement to pull themselves out of despondency and sadness. This is where motivational books can be helpful. So, here are 5 motivational books that students must read to fight hopelessness: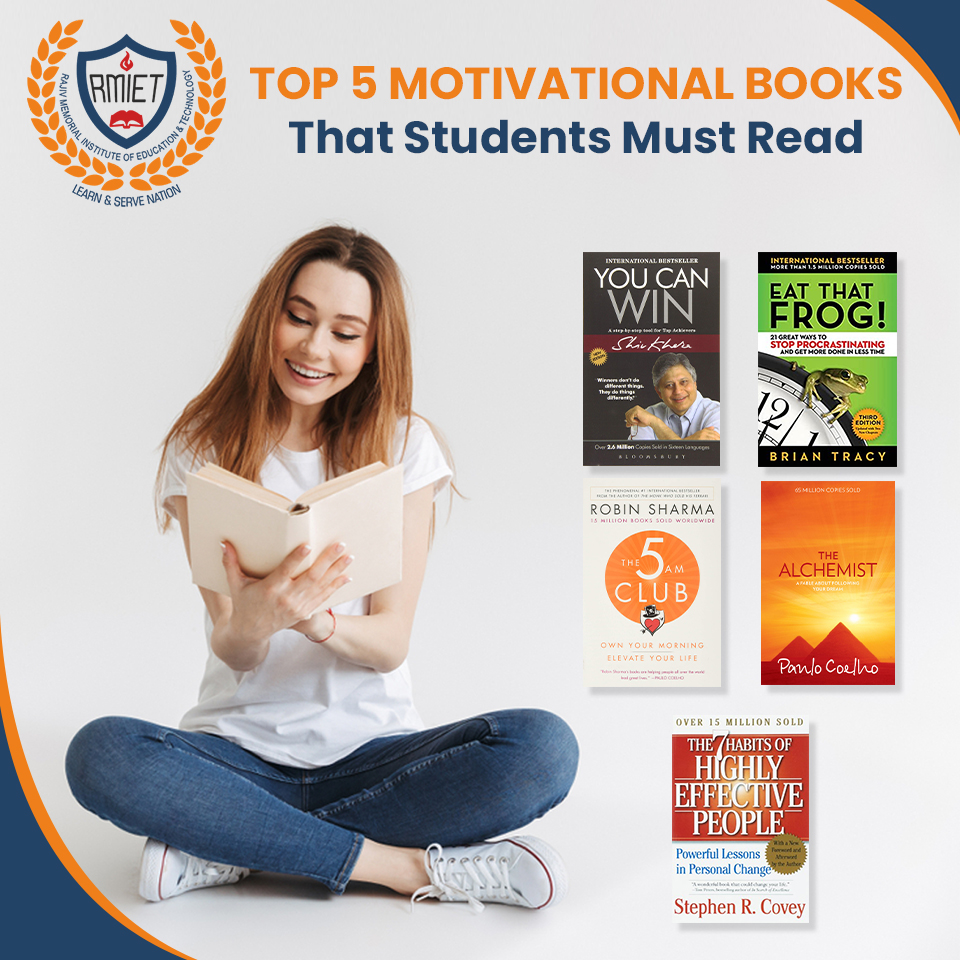 YOU CAN WIN BY SHIV KHERA
"You Can Win" by Shiv Khera is a book filled with modern formulas and ancient wisdom that can motivate you to live your best life by achieving your goals. It will guide you, motivate you, and inspire you to live your best life. A must-read for anyone who is feeling low and depressed.
EAT THAT FROG! 21 GREAT WAYS TO STOP PROCRASTINATING & GET MORE DONE IN LESS TIME BY BRIAN TRACY
If you have a big to-do list of tasks to be done in a day, you should start doing the hardest task first. The frog in "Eat That Frog!" is a metaphor for the toughest task and once you are done with it, you can increase your productivity multiple times and have a great impact on your outcomes. If you are a student preparing for government exams, do give it a read.
THE 5 AM CLUB BY ROBIN SHARMA
The 5 AM Club teaches you about the benefits of early rising and how this habit can help anyone in becoming a better leader. It also has very effective lessons on leadership, planning, and time management. The book has practical exercises for students to follow.
THE ALCHEMIST PAULO COELHO
Even if you're not a voracious reader, it's highly unlikely that you haven't heard of Alchemist by Paulo Coelho. It's a story of a shepherd boy who travels to the Egyptian Pyramids to follow his dreams of finding a treasure. This book teaches us that if you are determinant towards your goals, nothing can ever stop you.
THE 7 HABITS OF HIGHLY EFFECTIVE PEOPLE BY STEPHEN R. COVEY
Read the book, 7 Habits of Highly Successful People to know habits that differentiate an average man from an ultra-successful one. Doesn't matter you are a student in school or college, this book must be on your reading list. Make sure to go through every chapter of it deeply.
These were the 5 book recommendations that every student must-read. Whether you read online or offline, you need to spare time for reading. At RMIET, we strive to provide quality education to our students as well as work towards polishing their soft skills to help them with their overall development. If you want to know more about our college activities and courses, http://rmiet.org/.