The rich and vivid festivals of India reflect our diverse tradition and culture. Festivals are celebrated irrespective of religion or caste in the country bringing diverse people closer and creating a strong bond of humanity among them. Holi is one of those festivals that is widely celebrated and enjoyed by people not only in India but throughout the world wherever there are Indians. Let's take a look at the social significance of the festival of colours:
The festival of Holi helps to bring the society together and strengthen the secular emotion of our country as it is celebrated by everybody irrespective of their caste or religion. The tradition of Holi is that even enemies turn friends and forget any feeling of anger or hardship. On Holi, people do not differentiate between the rich and poor and celebrate the festival together with the spirit of solidarity. After playing Holi, most people visit their friends and relatives and exchange sweets and greetings. All these gestures help in revitalizing relationships.
When it comes to the festival of colours, everybody becomes a child and enjoys the festival with great zeal and excitement, especially youngsters who are most active as far as playing with water and colours is concerned. To enjoy this amazing festival, there are a few things we can consider to have a happy and safe Holi experience. These are:
Find a group of friends to play Holi with, don't go out alone by yourself
While the festival is quite fun, being surrounded by the people you know is always better than being a stranger among a group that is splashing things on one another. It could also help you stay away from the troublemakers disguised as normal people playing Holi.
Cover your skin with oil
Playing with colours is fun, of course! If only the colours are not harsh and can be removed easily, there's not much issue. Well, you can definitely help yourself with that, you may use coconut oil and cover your ears, nails and massage your skin with it so that it would be easier to remove the colours from your skin after playing Holi.
Wear clothes you can throw away later including a full sleeve top wear
Holi is the festival to get all messy and wet, literally! While playing with different colours and water, worrying about your clothes is the last thing you would want to do. So, do remember to grab your oldest full sleeve shirt and some old joggers and get going. Wearing all White is a fun way to see different colours you've brought with yourself before throwing the outfit away.
Avoid using strong synthetic colours
Don't go after those harsh synthetic colours. Not only would they take too long to wash off, but could also harm your skin. Always use herbal colours or 'Gulal' in light colours like Yellow, Saffron, Blue, Orange, light Green, Pink etc. as they are much gentle on the skin and are more 'colourful', of course!
Oil your hair well before stepping out and use kitchen ingredients to remove colour
It's better to use some extra oil for your hair before stepping out to play Holi. Doing so will avoid the colours to enter the scalp. After you're done playing Holi, instead of using soap or other cosmetic to wash of the colours, use kitchen ingredients like gram flour (besan) and lemon to gently remove the colours.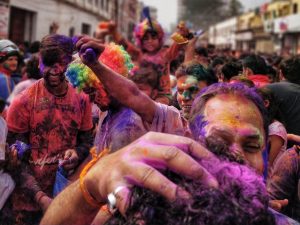 Holi is a very fun and exciting festival which holds a special significance in the lives of every Indian. While we enjoy a lot playing with water and colours during Holi, it is always better to be safe. At RMIET, we celebrate and enjoy every festival with great zeal and excitement so that our students could know the significance of these festivals and our rich heritage. To know more about the college activities and courses, visit – http://rmiet.org/