Breakfast is the most important meal of the day. If you are living a hostel life, your breakfasts are going to be mundane and mostly tasteless. As a student, it's crucial that you take care of your physical as well as mental health, and both highly dependent upon what you eat first in the morning. You need to maintain your health in order to perform well in exams.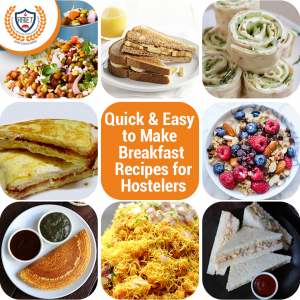 Today, we have decided to prepare a list of quick and easy to make breakfast recipes for hostelers. These recipes are not only easy to make, but are also very nutritious & delicious. We have added them onto our lists on the basis of three accounts: preparation time, taste, and nutrition.
Let's see them one by one: –
SPROUT SALAD CHAAT
Take a bowl of mung bean sprouts. You can prepare them in hostel, or buy from the market to avoid the hassle. Add finely chopped tomatoes, onions, and pudina into the bowl and sprinkle chaat masala from the top. You can also add Soya Chunks or Paneer into your chaat to increase its protein content. If you have your ingredients ready in advance, sprout salad chaat can be prepared in less than 5 minutes.
PEANUT BUTTER SANDWICH/ROLL & A FRUIT
Buy a good quality natural peanut butter and whole wheat bread. Now, in the mornings just apply peanut butter on two slices of bread and have it with any fruit (apple or banana) of your choice. It's easy to prepare and tastes good too. You can also use Roti instead of Wheat Bread and eat it like a roll too.
OATMEAL
If you own an electric stove in your room, you can always go for Oatmeal. Just put OATS in milk and warm the mixture for a few minutes. From the top, add banana and berries to enhance flavour and nutrition content. Oatmeal is a source of complex carbs and as they digest slowly, you will be full for a good amount of time.
BESAN KAA CHILLA
We all have eaten Besan Kaa Chilla for at least once in our lives and we all love it. It's super easy to prepare. Prepare a batter of gram flour and water, and make it thick. Add some finely chopped onions, ginger, chilies, and other seasonal veggies into it. Heat Tawa on a low flame until it becomes medium hot. Take a ladle full of that mixture and slowly put on Tawa. Spread it lightly and when it begins to cook, carefully turn it. Do this 1-2 times, and your Besan Kaa Chilla is ready.
BREAD OMELETTE
Break two eggs into a bowl and dip slices of wheat bread into it one by one. Put those dipped pieces on medium-heated Tawa with melted ghee, and cook each side for 3-4 minutes. You will get the protein of eggs and carbohydrates from the bread. If you are short of time, you can always go for hard boiled eggs with ketchup or green chutney.
BHELPURI
To prepare Bhelpuri, you need puffed rice, peanuts, chilies, onions, tomatoes, red chutney, and green chutney. Chop onions, chilies, and tomatoes and put them into a bowl with puffed rice. Now add red and green sauce and mix it thoroughly to add a tangy flavour to it.
This was our list of breakfast recipes for hostelers. At RMIET, we strive to provide quality education to our students as well as work towards polishing their soft skills in order to help them with their overall development. To know more about our college activities and courses, http://rmiet.org/