English is the language of international communication. It is spoken by almost 400 million people across the globe. Knowing English can increase your chances of getting a well-paid job in a multinational company. Global companies such as Apple, Samsung, Renault, Microsoft have English as their official corporate language.
Most of the world's music and books are printed in the English language, therefore its learning can help you in better cultural understanding. Furthermore, it is the language of the Internet too. Approximately 52% of the websites on the Internet are displayed in the English language. By having a proper command over the English language, you are just a click away from the wealth of the information. No doubt, English is the language of the modern world.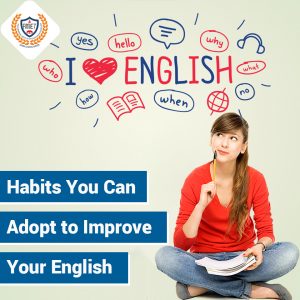 Therefore, today we have decided to suggest some habits which might be helpful to you in improving your English language skills both in terms of speaking and writing. Let's see those habits one by one: – 
Listen, Listen & Listen
How did you learn your native language when you were young? By listening, right? So, this is what you should do while learning English. Buy a Netflix subscription and start watching American sitcoms like FRIENDS, HIMYM, etc. They will help you learn the most common words of the language along with getting the basics right. If online streaming is not your thing, you can always go for Podcasts. They're very famous podcasts on the Internet which you can listen on your way to college or late at the night. 
Read, Read & Read
Reading is also essential in understanding the Grammar and structure of the language. You can read novels, self-help books, and even comics. If you are interested in other topics like Health and Fitness, you can always go for reading blogs on the web. Some famous blogs are Huffington post, Healthline and medical news. 
Practice Speaking 
The only way to be a good English speaker is to be non-hesitant when you practice speaking. Just stand in front of the mirror and start reading a newspaper or a book. You can also record your voice in a recorder and listen to it afterward, to see where you need improvement in accent and pronunciation of the words. 
Learn Vocabulary & Phrases
Keep a pocket diary with you and if you listen or see words that you can use in your day to day conversation, just write them down in your notebook. Moreover, you should also add common phrasal verbs and idioms in English which will take your language learning to the next level.
Have Fun & Don't Shy
Don't shy away from talking to strangers and make language learning a fun process where you can learn English with genuinely being interested. 
This was our list of habits that students can adopt to improve their English speaking and writing skills. At RMIET, we strive to provide quality education to our students as well as work towards polishing their soft skills to help them with their overall development. To know more about our college activities and courses, http://rmiet.org/