Today, students give more preference to having a smartphone than having a pen or notebook. The apps have made students' life comfortable and efficient. Some Apps are now the quintessential part of a student's life. Though if you are using your phone only to play Call of Duty, then wastage of time becomes a routine. Therefore, you must know about that must be on phone. Watch our list of types of apps that must be on every student's phone.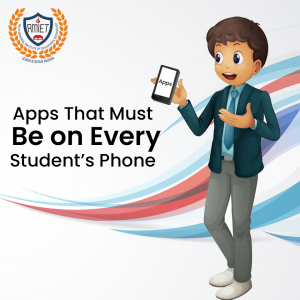 DICTIONARY APPS
There are various Oxford Dictionary Apps available on the App Store and Play Store. As a student, your vocabulary should be impressive and well-built for working in corporate companies. The Dictionary App provides you access to synonyms of thousands of words on the click of a button. It's better to download the app that allows you to search for both offline as well as online. Furthermore, if you are a voracious reader, this app will make it easy for you to look for difficult words.
ANTI DISTRACTION APPS
Do you have a compulsion to check your phone every 15 minutes? It's a common habit in most millennials who own a smartphone. To tackle this problem, there are various anti-distraction apps on the store such as Forest App that shuts down all the notifications from the phone for the amount of time you enter. Each time you sit to study for exams, you can set the timer as per your comfortability.  
SCIENTIFIC CALCULATOR
If you are a Mathematics or Science student, it's better to have a Scientific Calculator App on your phone. It's cumbersome to carry a scientific calculator everywhere you go, and therefore it's better to have this app on phone.
FINANCE MANAGER APPS
The Finance Apps help students to manage their pocket money as well as keep track of their budget. In these apps, all the finances of the students are in one place. The chart option presents the diagrammatic view of your finances. There are many apps on Play Store and App Store for Finance Management like Mint.  
NOTES MAKING APPS
Apps like Evernote, help students to make notes and create checklists in detail, manage docs and photos as well. These apps are available for both Android as well as iOS. 
These were some of the Apps that are helpful for a student. Tell us in the comment section about any kind of App that we have missed? At RMIET, we strive to provide quality education to our students as well as work towards polishing their soft skills to help them with their overall development. To know more about our college activities and courses, http://rmiet.org/.