"Productivity is never an accident. It is always the result of a commitment to excellence, intelligent planning, and focused effort." – Paul J. Meyer
Given the number of distractions a student has at its disposal, time management skill is important than ever before. Time management helps students to manage to prioritize their tasks and plan ahead. The habit of procrastination only leads to stress and anxiety among students. Remember, being busy isn't always mean being efficient.
 Hence, here are our top time management tips that every student must know. Let's go through them one by one: –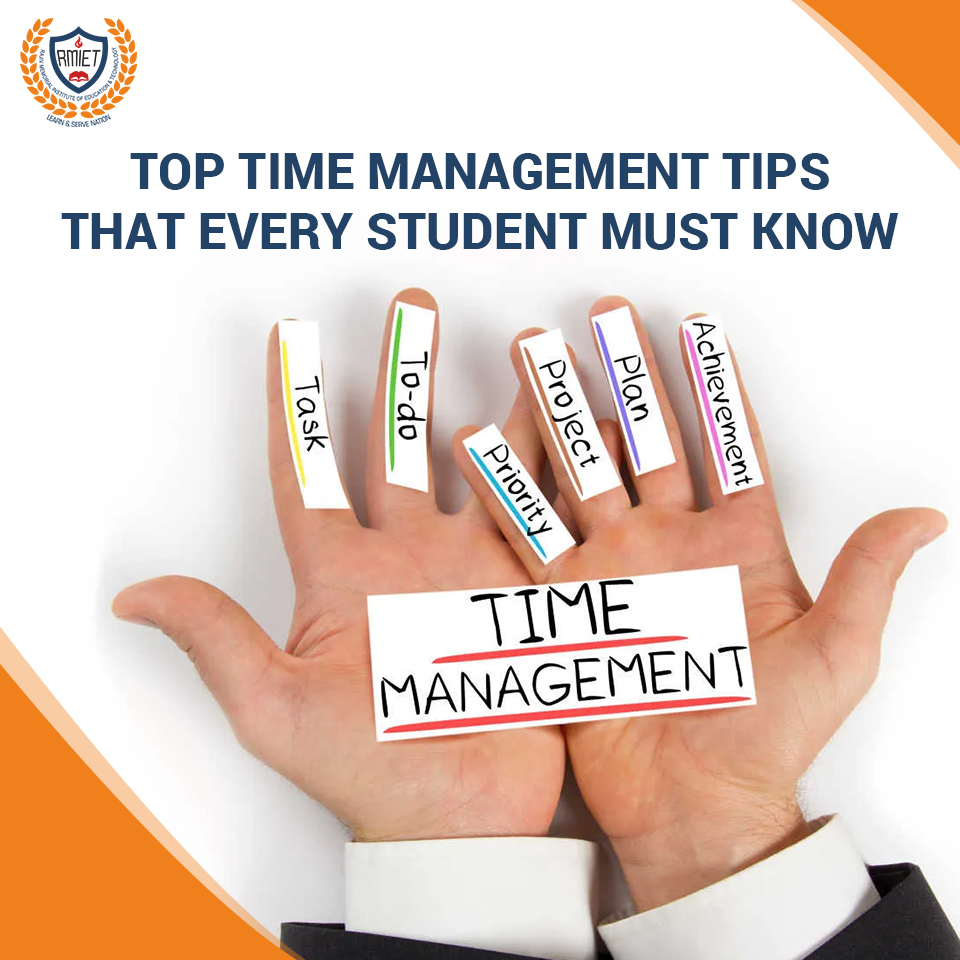 HAVE A PROPER TIME SCHEDULE WITH A TO-DO LIST
Students should develop the habit of prioritizing their work from an early age. Having a time schedule is critical for students to have a proper balance in life. 
Also, keep a to-do list with you to organize your tasks and stay mentally focused.
TRY TO ELIMINATE ALL YOUR DISTRACTIONS
Nowadays, there are a lot of distractions in a student's life. Social Media, cell phones, and other distractions make it hard for students to focus on a single thing. Hence it is advised to keep electronic devices away if you have decided to study for an ample amount of time. 
WAKE UP EARLY
As a student, if you really want to be productive, make a habit of waking up early to get done with your work. Studying late at night, and then sleeping the whole day is unnatural and won't suit many people's health in the long run.
SLEEP FOR ATLEAST 8-10 HOURS
Getting enough sleep is super important for the proper functioning of the mind and body. Mark your bedtime and the cut-off time for each day, to make sure that you are getting enough sleep. A good night's sleep helps to recharge the mind to have the energy for the whole day. 
AVOID MULTITASK
Focus your attention on one thing at a time. Splitting attention in more than one task only decreases productivity. A study by Stanford states that people who multitask work less efficiently. 
DON'T FORGET TO REWARD YOURSELF
It is also important to reward yourself for the completion of an objective. When you reward yourself, the brain releases positive hormones and attaches hard work to reward. You can play PUB-G on your smartphone or go out to eat your favourite street food. 
These were our top time management tips for students. Someone said it so true, "Time isn't the main thing, it's the only thing."
At RMIET, we strive to provide quality education to our students as well as work towards polishing their soft skills to help them with their overall development. If you want to know more about our college activities and courses, http://rmiet.org/.