Ever wondered what is creativity, and is there any way to improve it? In simple terms, creativity is transforming imaginative ideas into reality. For some, creativity is more like an in-born instinct while for others it's a muscle to be developed with deliberate practice. In India, there is also a desi name for creativity known as JUGAAD. Normally, people are who are creative are more adaptive to their circumstances, and thus become more successful than people who choose not to experiment. Hence, today we have decided to enumerate 7 ways that will be helpful for students in becoming more creative. Let's see them one by one: –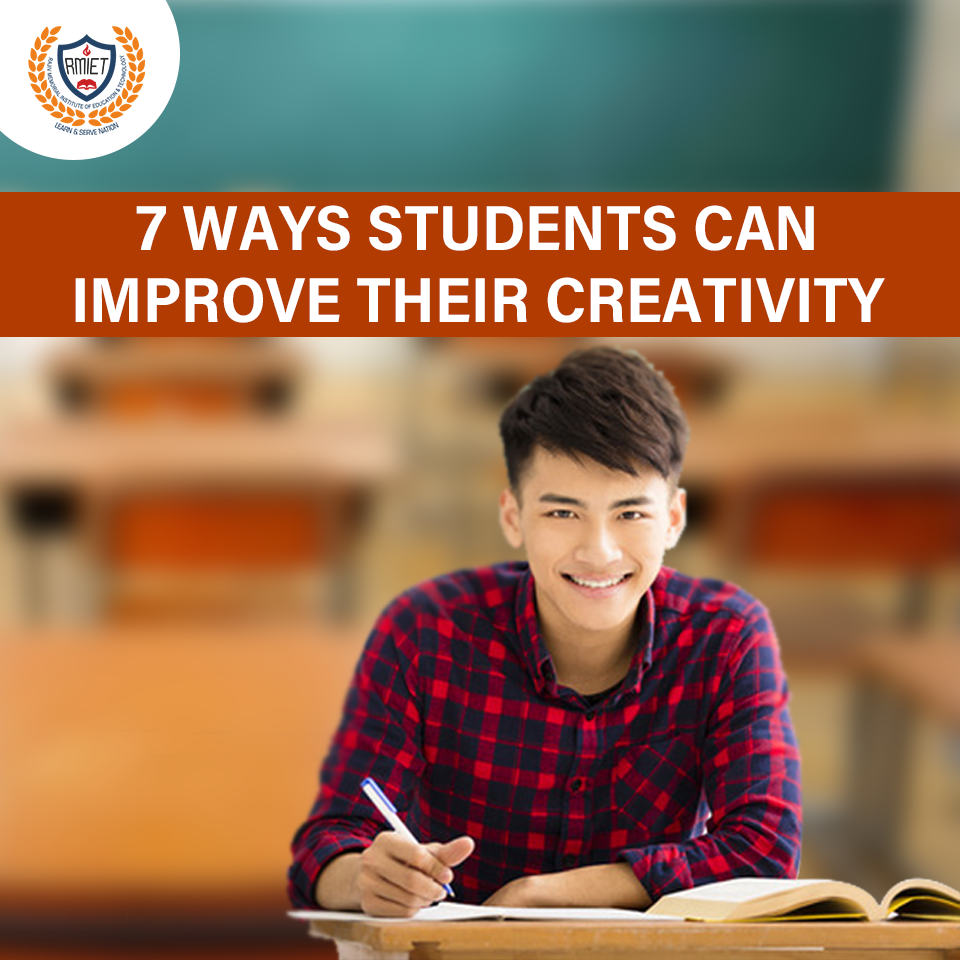 DO WHAT YOU LOVE
You can't be creative in the field which you don't love. Period.
Creativity and Love are highly intertwined, so do the job that you want to do for the sake of genuine interest in it. You can be a Content Creator, Content Writing, Graphic Designer, Sketch Artist, & Front-End Developer, etc.
RISKS ARE YOUR FRIEND
When it comes to taking your creativity to next level, risks are your friend. Don't be afraid to trying out new things and stretching your creativity. You may not come out successful all the time, but learn a lot along the way.
KEEP A CREATIVITY JOURNAL
To follow your creative process and keep the track of innovative ideas you produce; it is better to keep a journal with you. Call it your "Creativity Journal". You can take hints from your journal anytime for future inspiration.
WALK A LITTLE
Research says that walking stimulates creativity, hence when you are thinking deeply, we advise you to walk rather than sitting in one place.
ALWAYS ASK FOR FEEDBACK
If you are in a creative field like Content Creation, then asking for feedback becomes necessary. When it comes to creativity, asking for help is a sign of strength. Sometimes a new perspective is all you need to boost your imaginative instincts.
BRAINSTORM NEW IDEAS
Brainstorming can be really helpful in enhancing your creativity. Take a piece of paper and start writing as many ideas as possible in a very short period. Then start refining your ideas for the best possible choice available.
USE FLOWCHARTS AND MIND MAPS
Mind maps and flow charts are a great way to look for innovative ideas connected to your project. Write the central topic or word in the middle, and link it to the related terms and ideas around it. You can also create sub-branches to those ideas. This flow chart can help you in tracking the presence of the whole project from start to end.
These were the ways that would be helpful for students in becoming more creative. At RMIET, we strive to provide quality education to our students as well as work towards polishing their soft skills to help them with their overall development. If you want to know more about our college activities and courses, http://rmiet.org/.